"Welding connects. Metal and people. Locally and globally. Isn't it phenomenal!"
– Internationally valid welding wisdom –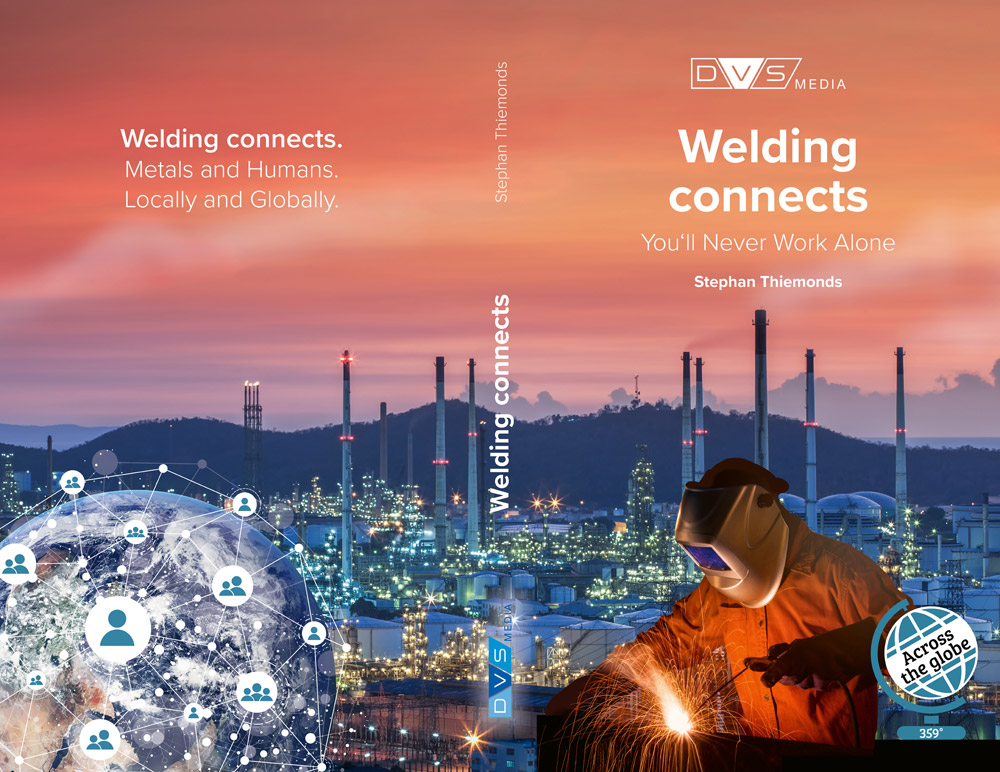 Welding connects – You'll Never Work Alone
Fourteen short stories tell of the author's professional, factual and fantastic engagement with his original profession as a coppersmith and welder, and of his experiences through his work as a service technician in worldwide service. This combination of welding, screwing, writing and travelling led him to the insight that is inherent in this booklet as a good spirit, which in turn is part of the fascination of welding technology: Welding connects. Metallic and human. Local and global. What the author, in the sequence of a pun, calls phenomenal.
A literary stylistic element of these stories is magic realism: the blurring of the boundary between reality and fantasy. Such fantasies are actually in contrast to (welding) technology based on norms and sets of rules, on facts and functions. Professional experience, on the other hand, taught the author that even in a technical branch, fantasy is just as important as reality. Because the term "imagination" denotes the creative ability of a person/technician/welder, which in turn is indispensable for technical progress…
Inhalt / Table of contents
The cover was created from the template of the German-language edition "Schweißen verbindet" (2020). In order to visually express the togetherness of the two works, that of the English-language edition was not significantly changed from its basic design elements (manual arc welder, industry, network of global connectedness).
The changes – the color composition, the altered welder, the industrial landscape and the web stretching around the earth with its dots and people – are based on an idea by Christian Banpao, Chonburi, Thailand, which were graphically implemented by DVS Media employee Laura Sieben.
Welding connects! Metals and people. Professionally and privately. Locally and globally.
The author, an educated coppersmith and welder, discovers and experiences this welding phenomenon again and again during his professional world travels. Written in the style of Magical Realism and based on technical and factual knowledge, he tells the story of welding technology in an entertaining conversational tone. How and why welding connects; why the healing power of singing while welding in the middle of a narrow copper pipe brought him as far as Singapore; from an Antarctic storm night aboard a krill fi shing vessel that was separated, lengthened and welded back together; why ten little sewage sludge dryers and the archangel Raphael have a welding connection; and why the return of the Jedi Knights is critical to the future of welding technology. Surprised by the phenomenon associated with his profession, that welding not only connects, but can even fulfill children's dreams: through the magic of the welding industry!
Exceptional reading for industry insiders. Fascinating insights into the world of welding technology for all industry outsiders.
Foreword: Welding Technology a Field for Creative Minds
Foreword by the Gesellschaft für Schweißtechnik International – Schweißtechnische- Lehrund
Versuchsanstalt Hannover, Germany
Welding connects
The healing Power of Singing while Welding
In Seventh Heaven
Mr. Smith and the Thing about Experience
The Return of the Jedi Knights
Quick and painless
We love the Storms, the roaring Waves
What would the World be without Steel?
The Magic of Industry
Ten small sewage Sludge Dryers and the Archangel Raphael
The stainless Steel Thing
Welding connects and fulfils Children's Dreams
You'll Never Work Alone!
"Take Me Home, Country Roads …"
The Story Behind "359°"
Sincere Thanks!